Leicestershire's stunning landscapes take on a whole new beauty in the spring, making the city and county ideal for exploring on bracing walks.
It's the perfect time to pull on your walking boots and explore the delightful walking routes which criss-cross the region. Although we can't venture too far due to lockdown restictions, we're sure you'll find the perfect walk right on your doorstep or inspiration for when we can travel.
---
The Leicestershire Round
The monster of all local walks is the aptly-named Leicestershire Round – a 100-mile trek starting and finishing at Newtown Linford, linking field paths, lanes and bridleways to some of the county's best-known sites such as Bosworth Battlefield, Foxton Locks and Burrough Hill Iron Age fort.
Walking the whole route is a gruelling task, but there are numerous shorter routes that make up the long 100 miles. You'll experience picturesque canal towpaths, public rights of way and quiet country roads perfect for enjoying longer days of the spring sunshine.
The Leicestershire Round was devised back in 1987 for the centenary of the Leicestershire Footpath Association, who produced a book dividing the route into various shorter walks, with stopping places, pubs and cafes for the weary traveller. It extends as far north as Frisby on the Wreake, to Shackerstone in the west, High Cross on the border with Warwickshire, Foxton Locks in the south and Belton in Rutland in the east. Find out more about the history of the Leicestershire Round Here.
If you're not brave enough to walk the Leicestershire Round, those looking for shorter walks in stunning parts of the city and county are spoiled for choice!
Walkers wanting to retrace the steps of Leicestershire's history can explore a six-mile walk around Bosworth Battlefield and surrounding villages.

Foxton locks
When visiting Foxton Locks please show respect and consideration for others, following the advice around social distancing at all times and keeping your distance from both other people and moored boats where people may be living aboard.
---
City Walks
For those living in and around the city itself, there is still plenty to offer in terms of bracing walks taking in history, heritage and scenery.
Ellis Meadows
From Abbey Park you can walk up along the Grand Union Canal, towards Ellis Meadows. You can see the national space centre and Abbey Pumping station along the way. You can go up via the canal, and back along the river soar to mix it up. If you're feeling especially adventurous, you can keep walking along the river beyond Ellis meadows, and you'll eventually get to Watermead Park - a huge nature park filled with lakes and beautiful scenery.
Abbey Park
Abbey Park is located to the north of the city and truly is a beautiful green space in which to stroll leisurely, relax and admire Leicester's riverside scenery. The park boasts a whole range of activities for families including a picturesque boating lake.
Aylestone Meadows
Walking from the city centre, you can pass through castle gardens, a lovely city haven. Carry along down the river soar and you'll eventually find yourself in the calming Aylestone Meadows. There's plenty of ways to walk round, from forest paths to scenic boardwalks or a canal-side wander.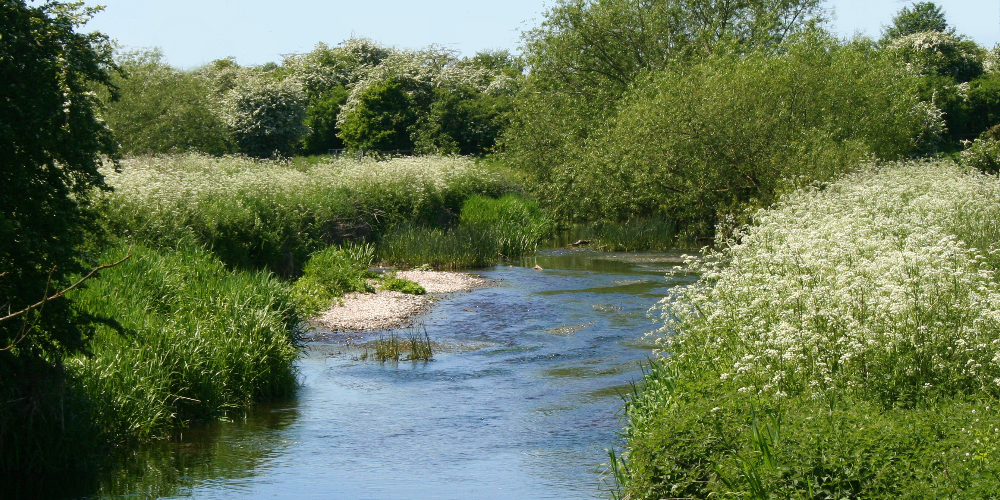 Oadby
One of the best local walker routes is a walk from the centre of Oadby, following rights of way and footpaths from Uplands Park through leafy streets and eventually out into the fields of Stoughton Road, before leading onto Gartree Road and towards Shady Lane Arboretum and Evington Village.
They have a public right of way through the course, just watch out for stray balls! As you keep walking, you'll find yourself in Shady Lane Arboretum, a haven of beautiful plants, flowers and scenery. It's the perfect place to spend an afternoon.
---
So get out in the sun, dust off your walking shoes and get out there to explore the scenery that's is quite literally on your door step, remembering to adhere to social distancing guidelines at all times.
Want to keep up with What's On and the best things to see and do in Leicester and Leicestershire? Get signed up to our email newsletter and we'll tell you some top reasons to visit each month, with the latest news about events, activities and attractions alongside some amazing competitions and giveaways! Sign up now
Related
0 Comments