With summer fast approaching it's time to think about your summer events. Leicestershire is blessed with a wealth of open spaces perfect for enjoying the summer sun. Many of our venues have great outdoor spaces for you to host your outdoor events, the full list of venues can be found on our Outdoor Space page.
Perhaps you are looking for an outdoor space area which offers something a little different for your delegates? Well, we have pulled together a collection of venues which offer just that, read on to explore the unique outdoor spaces within Leicester & Leicestershire.
---
CONKERS – The Amphitheatre at Waterside
Located in the centre of The National Forest, Conkers offers a variety of unique meeting spaces for delegates. From large conference rooms with plenty of natural daylight to a 4D cinema, Conkers have a range of facilities to suite all your needs. What's more, you can combine your meeting with teambuilding activities or leisure time in their 120-acre attraction!
Being positioned in the heart of The National Forest means Conkers has the benefit of being surrounded by acres and acres of beautiful natural landscapes. They have made the most of this and created a unique space perfect for hosting outdoor events.
The Amphitheatre at Waterside is 700-seater (Theatre Style) covered amphitheatre. This unusual venue provides the perfect setting for a summer event. The venue is used as a music and entertainment venue, as well as for conferences and therefore can be used to either host a conference or maybe your corporate summer party?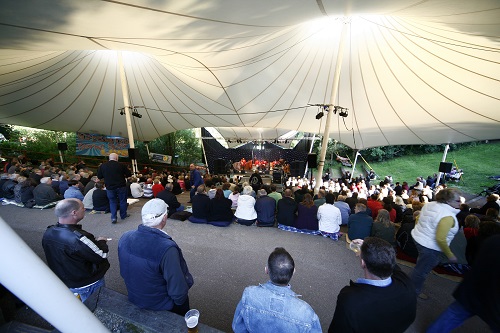 ---
Belgrave Hall is a lovingly restored 18th-century former family home that has retained much of its traditional architectural character including original period features and detailing. Today the hall is an outstanding venue available to hire for a range of events.
Located in the city of Leicester, Belgrave Hall boasts delightful quiet gardens which makes you forget you are in the hustle and bustle of the city. The famous gardens are an attraction that draws in visitors from all over the country. The serene walled gardens change with each season and every month there is something new to enjoy.
During the summer, a magnificent marquee is erected in the gardens. Its natural light and adjacent lawn make it an ideal setting for corporate meetings, workshops, summer parties and events.
---
DMU Venues – Vijay Patel Building Terrace
Based in the heart of Leicester, DMU Venues can provide the perfect setting for a diverse range of events including meetings, conferences, exhibitions, performances and celebrations. Boasting a large choice of event spaces from meeting and training rooms to studios and outdoor spaces.
DMU's Vijay Patel Building, home to art and design, provides DMU with one of the finest campuses in the country. The modern, bright and spacious building offers high quality meeting and event facilities in the centre of the city.
One of the highlights of this great building is the fantastic roof terrace, which provides stunning views across the city. The spacious terrace provides a unique spot for a 75-person reception, making it perfect for post meeting drinks, networking or a summer party.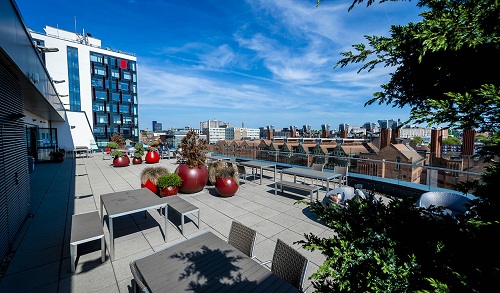 ---
Surrounded by the rolling hills of the beautiful South Leicestershire Countryside, Keythorpe Manor is a stunning English Country House that offers exclusive conference facilities. Ideal for hosting a wide range of corporate gatherings, Keythorpe Manor prides itself in being able to provide a completely bespoke experience, offering luxury facilities for various events.
Keythorpe Manor's main event space is their stunning marquee. Situated on-site in their picturesque grounds, the marquee can host events up to 400 delegates and is accompanied by a veranda which acts as a viewing platform providing stunning panoramic views of the countryside. The conservatory style marquee is a completely flexible space which allows planners to tailor it to their needs.
The venue also has ample outdoor areas for teambuilding activities, cocktail bars, live music and seating areas. The outdoor space partnered with the marquee and viewing platform provide a beautiful unique space perfect for your corporate summer events.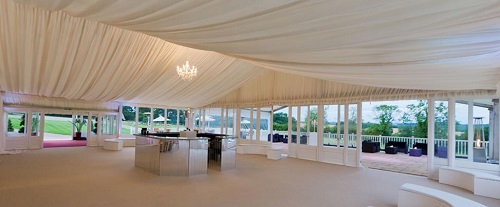 ---
Set amid thirty-eight acres of landscaped South Leicestershire parkland, Kilworth House is a grade II listed former family home which offers an enchanting blend of Victorian opulence, fine food and contemporary luxury.
Kilworth House Hotel is the perfect business venue, offering grandeur and intimacy in equal measure. The grand rooms provide an elegant backdrop to meetings, while the rolling parkland inspires fresh ideas. Offering 7 meeting rooms, with the largest holding up to 80 delegates, this venue is ideal for meetings and events of all sizes.
This luxurious venue has two unique features – the hotel's ornate Victorian Orangery overlooking the parkland and the stunning award-winning theatre set in a wooded glade beside the lake. Situated next to the theatre is The Staging Post – the first log cabin of its kind in the UK. This incredible facility was constructed from over 90 Douglas fir, which were grown on the shores of Loch Ness and provides a unique venue for any outdoor event. This private and secluded venue has the capacity to cater for 50 delegates and includes a self-contained bar area, open fire, terrace and plenty of outdoor space.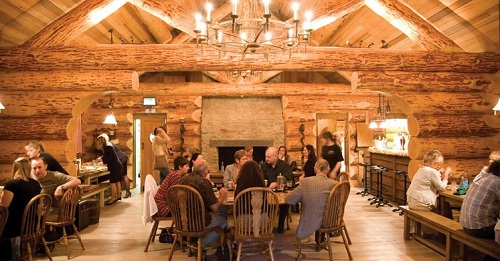 ---
The Nevill Holt Estate is a fairy-tale historic stately home, which dates back to the 13th century. It is set amongst award winning gardens that were designed by Chelsea gold medal winner Rupert Golby and offers breath-taking panoramic views over three counties.
In the summer of 2018, the Nevill Holt Estate opened its stunning new opera house. The theatre is housed in the old stable block and has maintained the stone courtyard walls, thus creating a compact and uniquely intimate opera house.
Another relatively new addition to the Nevill Holt Estate is Font House. What was once a dilapidated bungalow and garden is now a private and intimate event space which seamlessly connects modern contemporary design with the historical buildings of the estate. This low pavilion can host up to 14 delegates and is walled off from the rest of the estate, providing an exclusive area to host small meetings or gatherings. The building offers contemporary leisurely seating spaces, which are accompanied by stunning landscaped gardens with reflecting pools that create an elegant setting whilst adding subtle animation to the interior spaces. The garden also houses a terrace with ample outdoor seating making this venue perfect for small summer events.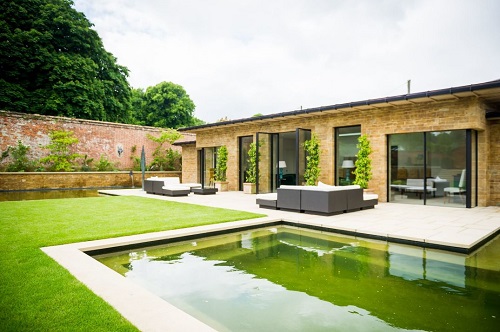 ---
Like the look of these spaces and venues? Discuss the option of hosting your next conference in Leicester & Leicestershire with our team. Email conference@leicester.gov.uk or complete our Enquiry Form.
Related
3 Comments