You don't need an excuse to pack up a pork pie and fill up a flask, but it's National Picnic Week this month – and if that's not a reason to roll out a blanket and share out the sandwiches in the sunshine, we don't know what is.
Leicestershire's parks and open spaces provide the perfect setting for a picnic – so whether you've got a bottle of pop and a bag of crisps, or a posh hamper full of treats, here are our top tips for al fresco summer dining…
Top Six for Picnics
Abbey Park
Leicester's magnificent Abbey Park has plenty of space for picnicking, so you're bound to find a peaceful spot away from the crowds. Close your eyes and enjoy the silence – but keep your sandwiches close by – you don't want your lunch to end up as duck's dinner! Hire a pedalo and explore the boating lake and pretend you're on the Mediterranean, or visit the animals in Pets' Corner and tell your friends you've been on safari. And if it starts to rain (well, this is England), you can always cheer yourself up with a nice cup of tea in the Peppercorns cafe.
Museum Square, New Walk
It's only small, but there's plenty of shade under Museum Square's giant horse chestnut tree on a hot summer's day. Pick up a lovely big sandwich and some homemade cake from Bread & Honey, and enjoy the stroll up leafy New Walk. And if it starts to rain? Pop in to New Walk Museum for a cup of tea and some culture. Lose yourself in Ancient Egypt, marvel at the dinosaurs or wander through Leicester's internationally renowned collection of German Expressionism – all for free!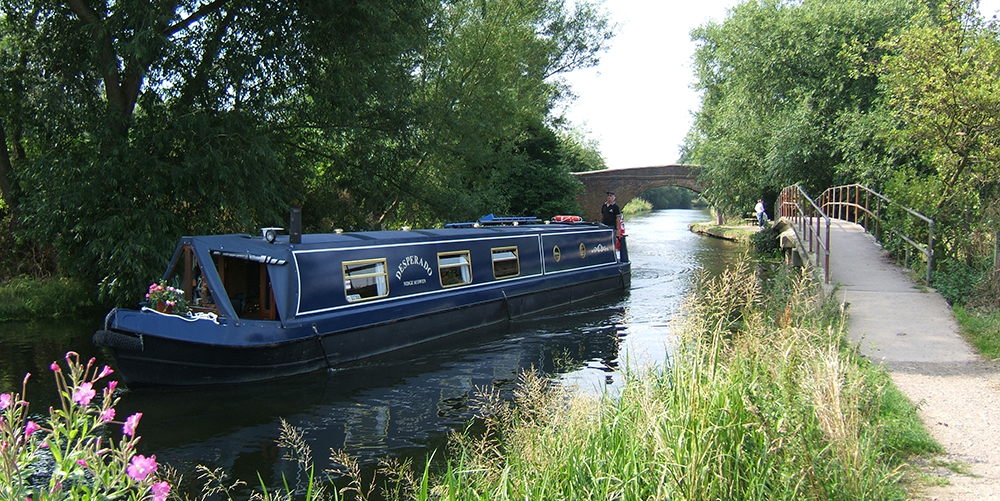 Aylestone Meadows
Want to build up an appetite for your picnic? Take a brisk walk on Leicester's riverside and head south along the River Soar. Look out for coots and moorhens, herons and hares and – if you're lucky – Premier League footballers parking their cars at the King Power stadium. By the time you reach Aylestone Meadows – about two miles from the city centre – you'll have earned a nice sit-down with your sandwiches. And if it starts to rain, you've got a good excuse to try a craft beer at the Ale Stone in Aylestone or maybe a plate of warm scones at the King's Lock Tearooms.
Botanic Garden, University of Leicester
Pack up your picnic, hop on a bus and ask the driver to let you off at Glebe Road. You're about to discover one of Leicester's gems… Established in 1947, the University of Leicester's Botanic Garden is 16 acres of lovingly cultivated grounds. You don't have to be green-fingered to enjoy its water features and sculptures, but gardening enthusiasts will love the plant collections that make the garden one of the most diverse in the region. There's also a great fishpond, chock-a-block with koi (take their picture – they're not coy). Check out the arboretum and the rock gardens, and the greenhouses full of tropical plants and succulents, before finding the perfect spot for your picnic blanket.
Foxton Locks
Got wheels and want to explore more of the glorious Leicestershire countryside? Throw your picnic hamper/supermarket carrier bag (delete as applicable) in the car and head out of the city on the A6. Just 13 miles from Leicester city centre you'll find Foxton Locks – an extraordinary feat of Victorian engineering. With its 10 locks – the longest set of staircase locks in Britain – and colourful narrowboats, it's the perfect place for picnickers. Find out about 19th century canal life at the Boiler House, take a boat trip on the Grand Union Canal, or just while away the day watching the wildlife around the locks. And if it rains? With two pubs and a café to choose from, you really won't mind...
Market Bosworth Country Park
Go west, sang Village People – but were they referring to Market Bosworth Country Park? Just 12 miles west of Leicester, the park is a delightful mix of open space and woodland, with plenty of space for a picnic. There's a large lake, lots of wildlife and a popular children's play area. Grab a picnic table, spread out your spread, and feast like a king. And while you're eating like a king, spare a thought for one too: Richard III lost his life at Bosworth Battlefield just three miles away. But if that's too far to walk, stroll into the small market town of Market Bosworth and treat yourself to afternoon tea in its historic market place instead.
Related
1 Comments