Do you like falafel, gentle reader? Do you know how to make a jus? Are you fond of ex-greengrocers from London who like SHOUTING FOR NO REASON on Masterchef? Then there's no two ways about it – you, my friend, are a foodie. And in Leicester and Leicestershire, you're in the right place.
Our city and county have a long and distinguished history when it comes to food and drink, with the sort of enviable range and variety of specialities that you'd usually associate with gourmet locations in France or Italy. Both Melton Mowbray pork pies and Stilton cheese have protected geographical status, meaning they're only allowed to be made in a certain area and to a certain recipe. This puts them in the same league as delicacies like Champagne and Parma ham, if you please. That's right! Wash down your glass of fizz with a chunk of finest pork pie and you will truly be living the high life. And while you're at it, here are a few other ideas…
Visit the Melton Mowbray food festival
On the first weekend of October (5-6), visitors to Melton's cattle market are in for a treat. The East Midlands Food Festival, an annual institution, is being held during British Food Fortnight (21 Sept-6 Oct), and will showcase not only the aforementioned pork pies and Stilton, but also a mouth-watering range of artisan cheeses, steamed puddings, gourmet British game and locally-brewed ales.
In 2018 there were over 200 stands plus cookery-themed entertainment, too, with celebrity chefs Rachel Green and Jo Pratt conducting demonstrations, plus music, children's activities, flavours of the east from the Cooking Maharaja and a street food zone offering dishes from around the world. Pack an industrial-size bib and get yourself there – tickets are available for £5 advance, with children under 16 getting in free.
Belgrave Food & Garden Festival
You can enjoy the beautiful gardens and celebrate tastes from around the world closer to home at the Belgrave Food & Garden Festival. It takes place Saturday 14th and Sunday 15th September and is a hugely popular event showcasing products from local suppliers in the beautiful setting of Belgrave Hall and Gardens. Tasty treats, including preserves, cakes and savouries with vegan and gluten free options. Hot, cold and alcoholic drinks will available on the day. It's guaranteed to be a great family day out.
Leicester's historic market
For super-fresh, high-quality produce at the sort of prices that'll have you smugly tucking that extra tenner back into your pocket, you can't beat Leicester market. Dating back to the 13th century, it has both a long history and a promising future, with a fantastic new Market Square for special events and an impressive redeveloped food hall.
Often voted Britain's favourite market, here you'll find fresh fish, meats, seafood, an impressive array of fresh fruit and veg and locally-produced products. So if you've got a hankering for lobster, swordfish, local honey, artisan cheeses, plantain or okra, get yourself down there. Just don't put them all in the same dish, perhaps…
Did someone say gin?
Venture through Leicester's photogenic Lanes – perhaps calling in at Cocoa Amore on Silver Street – and you'll find the foodie paradise that is the St Martins and Hotel Street area of the city. Here, you're rewarded with a huge variety of great places to eat, drink and shop. As well as Gelato Village, you'll find the Distillers Kitchen gin school.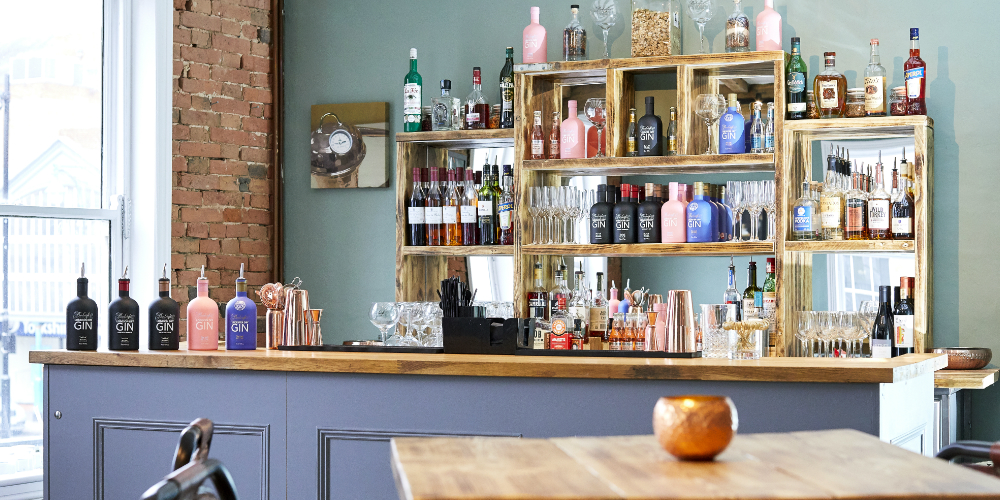 Part of the 45 Bar Group, Distillers Kitchen offers visitors the chance to learn the art of gin distillation and create a unique, personalised bottle of craft distilled gin. As part of the experience, there's also the chance to learn how to make – and taste – your own gin cocktails, which ought to put a spring in your step.
A little place we know…
Has all that food talk given you an appetite? No problem – because the city and county are also blessed with restaurants, cafes and eateries galore. For Michelin-starred fine dining, head to John's House, in Mountsorrel – where the eponymous John will cook for you in the pretty country surroundings of Stonehurst Farm.
Casa Romana, tucked away in Leicester's Albion Street, is one of the city centre's best-kept secrets. Owned and run by an Italian family, it serves simple, traditional Italian food, with an emphasis on quality and authenticity that turns new customers into regulars with impressive speed.
Ascough's Bistro, in Market Harborough, serves delicious, immaculately presented contemporary dishes, with everything produced on the premises. Also specialising in the contemporary is Leicester's latest hip lunch spot, Grounded Kitchen, in King Street – where healthy, Korean-inspired bowls of nutrient-rich vegetables, grain and meat are freshly prepared each day.
Leicester has a long history of excellent quality Indian cuisine, particularly vegetarian cuisine. The Michelin Guide-listed Chutney Ivy, in the city centre, is the perfect place for traditional, pan-Indian cuisine with a modern twist, and serves plenty of vegetarian options. Shivalli, in Welford Road, is 100% vegetarian, with an excellent, varied south Indian menu; while Herb, in Granby Street, offers traditional Keralan vegetarian and vegan dishes, packed with aromatic herbs and spices. Finally, you could try the Mumbai Inn, voted Restaurant of the Year at Leicester's Curry Awards 2019.
Still got room for more? Goodness me, have you got hollow legs or something? Check out local food blogs Eyes On the Prize, Recipes From a Normal Mum or The Extreme Housewife for local food tips, reviews, recipes and more. And you'll find lots more inspiration on this site, too! Check out the Eat & Drink section.
Want to keep up with What's On and the best things to see and do in Leicester and Leicestershire? Get signed up to our email newsletter and we'll tell you some top reasons to visit each month, with the latest news about events, activities and attractions alongside some amazing competitions and giveaways! Sign up now
Related
0 Comments