It's time for tea!
The Germans have their Kaffee und Kuchen, in Spain they like their churros con chocolate – but in England we have something altogether more substantial: afternoon tea.
Done right, it's a marvellous spread: dainty sandwiches with a delicate filling, tasty bite-sized savoury pastries, generous slabs of homemade sponges, and – the icing on the cake – warm, golden scones, oozing with clotted cream and jam.
Washed down with English Breakfast tea served in china cups, afternoon tea should probably be recognised as one of the wonders of the world. Forget about the Great Pyramid of Giza – it's the pyramid tea bag that gets our vote!
Unfortunately, like so many traditions of days gone by, it's no longer part of everyday life. Few people would manage to squeeze in such a high fat, high sugar meal between lunch and dinner each day – and if they did, they'd be unlikely to squeeze into their trousers…
But we're not talking about eating afternoon tea every day. We're talking about enjoying it as a special treat!
Here in Leicester, you'll find plenty of places serving up a nice cup of tea and a piece of cake on any day of the week. But if you want to experience the full works, and enjoy a proper afternoon tea, you'll probably need to plan it in advance. Those three-tiered stands of joy take time to craft, so make sure you book your table to avoid disappointment.
But before we round-up some of our favourite places for afternoon tea, let's first deal with that sugar-coated elephant in the room: how do YOU pronounce the word 'scone'? Here in Leicester, you'll mainly be offered 'Skōns' (rhymes with 'stones') – but you'll also find people who say 'skäns' (rhymes with 'gone'). It seems that it's nothing to do with being posh – it's more to do with where you grew up in the UK, or simply just a personal preference.
But if you hear anyone mentioning 'skuːn' (rhymes with 'noon'), don't get your napkin out in anticipation: they're referring to Scone – an ancient Scottish settlement to the north of Perth, where the kings of medieval Scotland were crowned on the Stone of Destiny.
Skōn, skän, skuːn - however you say it, scones are delicious. We won't even get started on the cream then jam / jam then cream debate…! Here are some of our favourite places in the city and the county where you can enjoy a plateful.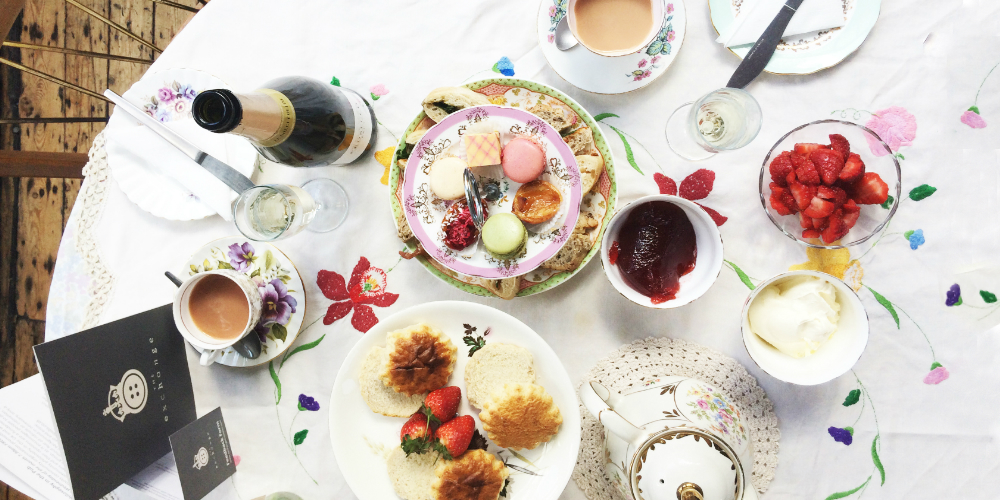 Prana Café, Horsefair Street
Treat yourself to a Vegan Luxury Afternoon Tea at Prana Café starting with a refreshing glass of sparkling pink rose lemonade and a selection of indulgent cakes, scones with pure strawberry jam, a selection of delicate finger sandwiches made using artisan bread. All accompanied with whole leaf tea by Jeeves & Jericho of Oxford or speciality coffee from London Roasters Square Mile. All served in a stunning surrounding made by attentive and friendly staff.
North Bar and Kitchen, Hinckley Road
North Bar and Kitchen focus on carefully sourced local and British produce, with sandwiches made from freshly baked bread, as well as delicious homemade jams crafted from the finest seasonal fruits. It goes without saying that these pair perfectly with their amazing scones and clotted cream. Their afternoon tea is served Thursday to Saturday, and pre-booking is required, Tel: 0116 225 5961
Café Rouge, Highcross
This popular Parisian-style bistro has given a French twist to a great British tradition. There's a savoury Croque Monsieur instead of sandwiches, and a mousse au chocolat joins the wide selection of cakes and scones. Afternoon tea is served daily from 12noon-5.30pm. Advance booking essential. Tel: 0116 251 8067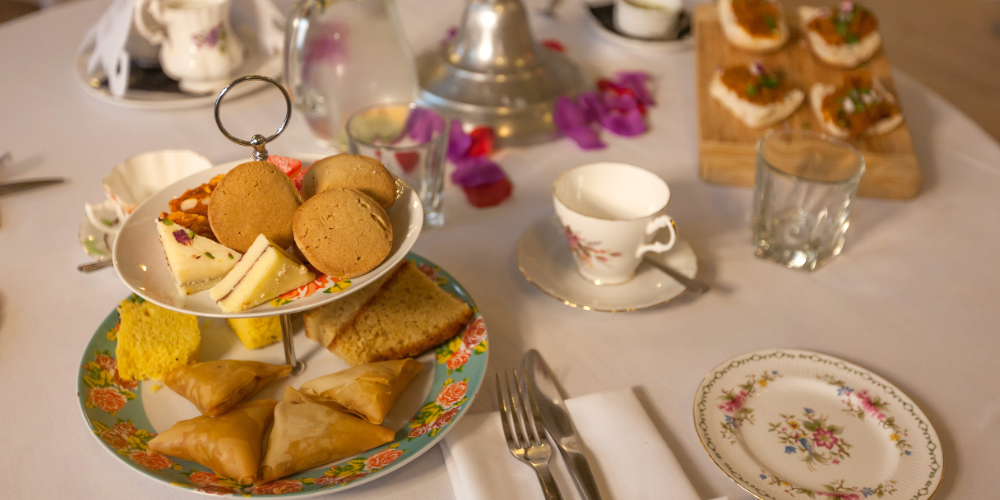 The City Rooms, Hotel Street
One of Leicester's grandest Georgian buildings opens its doors to afternoon tea fans on occasional Sundays. The City Rooms' Chocolate afternoon tea menu includes chocolate and cherry scones, chocolate cupcakes with salted caramel frosting and mini chocolate doughnuts. A selection of (non-chocolate) sandwiches will also be provided. Or go for something completely different and try their Indian Afternoon Tea. The choice is yours. Two-hour slots can be booked from 12noon to 3pm. Advance booking essential. Tel: 0116 251 5337
Hilton Leicester, Junction 21
Treat yourself or a loved one to a delicious Afternoon Tea at the Hilton, Leicester. Comfy and contemporary surroundings and sumptuous treats. You can even upgrade to a Sparkling Afternoon Tea if your feeling a little adventurous. Tel: 0116 263 0066
Grey Lady Deli, Newtown Linford
No trip to beautiful Bradgate Park is complete without a pot of tea and a plate of scones. You'll find delicious cakes in all the cafés in Newtown Linford, but try the Grey Lady Deli's afternoon tea for the ultimate treat. Enjoy sandwiches, cakes and scones with clotted cream with a pot of tea – or live it large with a glass of prosecco or a gin & tonic. Open daily. Booking essential. Tel: 01530 245 801
Stapleford Park, Near Melton Mowbray
What better surroundings for a traditional British experience than one of the country's finest country house hotels? Sink into the soft plump cushions of the drawing room, glistening chandeliers above, and look out over the beautiful grounds. Enjoy finger sandwiches, warm scones served with clotted cream and homemade strawberry preserve accompanied by a selection of dainty French pastries. There is even an afternoon tea for children! Booking is strongly recommended. Tel: 01572 787000.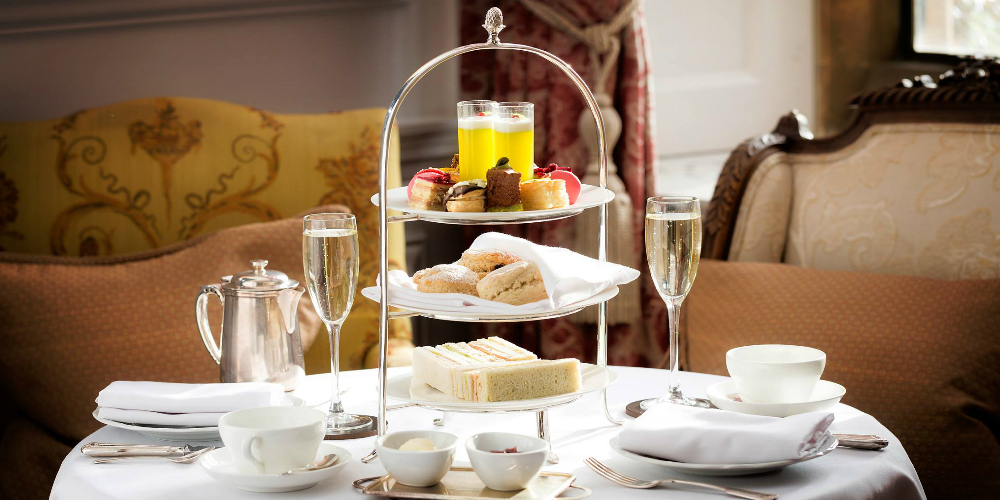 And if you want to make your own scones, here's our press officer's favourite recipe… she says it's fool proof!
FRUIT SCONES (makes six large scones)
225g plain flour
2 teaspoons baking powder
Pinch of salt
30g caster sugar
55g butter
55g sultanas (leave out if you prefer a plain scone)
150ml milk
Pre-heat the oven to 200C. Sift the flour, baking powder, salt and sugar into a bowl. Rub in the butter, stir in the sultanas and mix in the milk. Work the dough together with your hands and turn it out onto a floured work surface. Roll out the dough so that it's at least 1.5cm thick. Use a 6cm-diameter cutter to cut out your scones. Place on a buttered baking tray and brush with milk, before baking for around 15-20 minutes.
Serve, warm from the oven, with clotted cream and jam, and steel yourself for the compliments that will no doubt come your way.
Enjoy!
Want to keep up with What's On and the best things to see and do in Leicester and Leicestershire? Get signed up to our email newsletter and we'll tell you some top reasons to visit each month, with the latest news about events, activities and attractions alongside some amazing competitions and giveaways! Sign up now
Related
0 Comments