Halloween – whether scary or camp, here's how to enjoy it
Woooooooo. That's a scary ghost noise, by the way – stop imagining it as camp! Or as the noise a gameshow audience makes when the host mentions a really good prize. Fact*: 'Woooooooo' is the internationally recognised sound of scary, spooky Halloween fun, and (in this instance at least) it heralds a whole host of family events and activities for you to enjoy. No tricks – just treats, spread across Leicester and Leicestershire, for your viewing pleasure. Here's a selection…
(*Probably not a fact at all. An alternative fact, perhaps. Whatever that is.)
Free trick-or-treating
Yes, that's right – free! Visit Beaumont Shopping Centre on Saturday 27 October and you can pick up a 'trick or treat' bag from Dr Frankenstein's spooky lab before following a treasure trail around the stores to collect treats. There's free face-painting, too. And did we mention it's free?!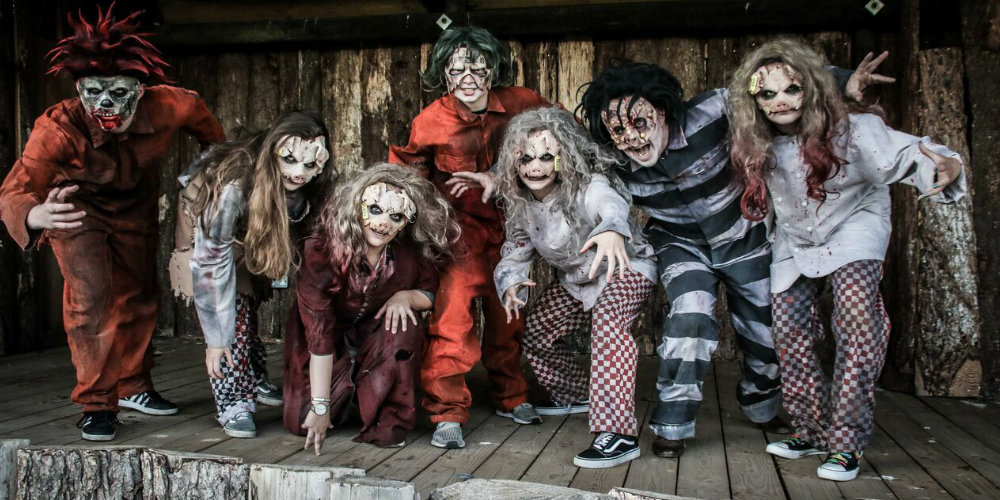 Award winning extreme Screams…
Twinlakes Park might be known for their family attractions, but this winner of the 2016 Best UK Scream Park are experts in creating the most frightening and spooky attractions that are sure to scare even the most resilient visitors. Back again this October, the Xtreme Scream Park has 6 incredibly intricate haunted houses, from The Pie Factory – where the meat is 100% human… to Ash Hell Penitentiary – the home of the worst cannibal prisoners on the planet! Be sure to book now, if you dare...
Get ghostly at the Pumping Station
Apparently there's a friendly ghost down at Abbey Pumping Station from Sunday 21 to Sunday 28 October for Ghosts and Ghouls Week, although for copyright reasons it's unlikely to be called Casper. While you're looking for him/her, you can pick up an activity pack and explore the history of this fascinating Victorian sewage treatment works, now Leicester's science and industrial museum. There's also the chance to take a ride on the narrow-gauge railway, which will be operating on Tuesday 23 October.
For older children (10+) and adults, there's the Ghostly Engineer and Other Stories – an evening of spine-tingling storytelling taking place on Saturday 27 October and including a guided tour of the pumping station. Book by calling 0116 299 5111.
Family Halloween nights at Conkers
Venture into the haunted woods at Conkers, the National Forest visitor attraction, in Moira, and you'll encounter more frightful witches and ruthless trolls than an average episode of The Apprentice. Fight your way free of the ghostly ghouls with a ride on the haunted runaway train and then terrify everyone with your dancing at the Ugly Bugs disco, where there will be creepy fancy-dress prizes for everyone, aged 0 to adult, so there's no excuse not to get involved…
Spooky pursuits
Head down to Leicester Outdoor Pursuits Centre on Halloween (Wednesday 31 October) to take part in their first-ever Halloween Spooky Trail. There'll be spooky soup, sweets and s'mores, and the chance to bimble around a 45-minute outdoor fun trail in the company of some sinister scarecrows… Feel free to dress to impress them! (Scarecrows are notoriously hard to impress, fashion-wise. Just look at the carefully-chosen ensembles they tend to wear themselves).
Halloween Steam and Scream
Depart from Loughborough or Rothley on the Great Central Railway on Wednesday 31 October for a Halloween Steam and Scream. Scream! As you ride the mini funfair at Rothley, or scare yourself silly handling the snakes, spiders and creepy-crawlies at Loughborough. And steam! As you ride away on a dark ghost train, encountering even more ghastly creatures than you'll find on the Surrey commute. With loads to do at the stations and the Ellis Tea Rooms at Rothley open for refreshments, it's sure to be a Halloween hit.
Boo at the Zoo
Time for one of our favourite jokes: Two monkeys are in the bath. One goes "wooo hooo wah hah". The other goes: "Why don't you put some cold in?" And if it's monkeys you want (and who doesn't), a visit to Twycross Zoo is a must, and from Saturday 20 October until Sunday 4 November, you'll not only get to see a wide variety of monkeys, apes, big cats, birds and reptiles, you'll also be able to be part of Boo at the Zoo. Help the Twycross Witch with her spell-casting and caterwauling, carve a pumpkin and take part in Halloween-themed craft activities. Spooky, animal-themed fun guaranteed!
Get gruesome at the Guildhall
Leicester's gruesome Guildhall is the place to be on Friday 26 October, when there'll be creepy crafts and treacherous trails to follow, plus the chance to make your own 'Day of the Dead' bunting (ideal for weddings), and create a Guildhall Ghost game. You'll learn about this fascinating building's long history, too.
There are also special screenings of Halloween-themed films at the Guildhall, on 28 October. Enjoy a drink by the roaring fire as you're entertained by the vintage classics Carry On Screaming and The Old Dark House, plus Disney's Coco.
It's a graveyard smash… on two wheels
Join the ninth annual Monster Mass Halloween ride, starting from outside Curve on Friday 26 October at 6pm. It's a free, family-friendly short bike ride through the city streets, with an anarchic, grass-roots feel – cycling volunteers stop the traffic and ask motorists to be patient as a stream of zombies, ghouls and gremlins of all ages take over the roads with colourful bikes decorated for the occasion. Unicycles, scooters, skateboards and heelies are all welcome, too – so grab your wheels and your Halloween face paint and join the fun. (There's usually someone with a bike-bound sound system, too, so you can cycle along to Ghost Town by the Specials).
Want more? Well, we can't promise more scares, but (cheesy link alert) it's frightening how many great activities are going on in Leicester and Leicestershire throughout autumn (groan). Don't miss our world-famous Diwali celebrations, for example; and follow up your Halloween fun with a trip to the popular Abbey Park bonfire and fireworks display on 3 November. Have fun!
Related
0 Comments