It's almost St George's Day (Monday 23 April), which can mean only one thing – time to celebrate the crushing awkwardness, frequent social embarrassment and questionable folk music that sum up being English.
While the universally-loved Irish revel in St Patrick's Day, or our cousins across the pond celebrate their national pride with brash Independence Day parades, we are – stereotypically – more reserved about our sense of national identity. But you know what? Let's embrace it! There are plenty of English charms that are worthy of celebration – many of them right here in Leicestershire. So why not use St George's Day as an excuse to discover them? Quietly, obviously. No need to make a big show of it, there's a good chap.
With a thriving cultural quarter that carries his name, it is perhaps no surprise that the legend of St George has a special place in Leicester's festival calendar.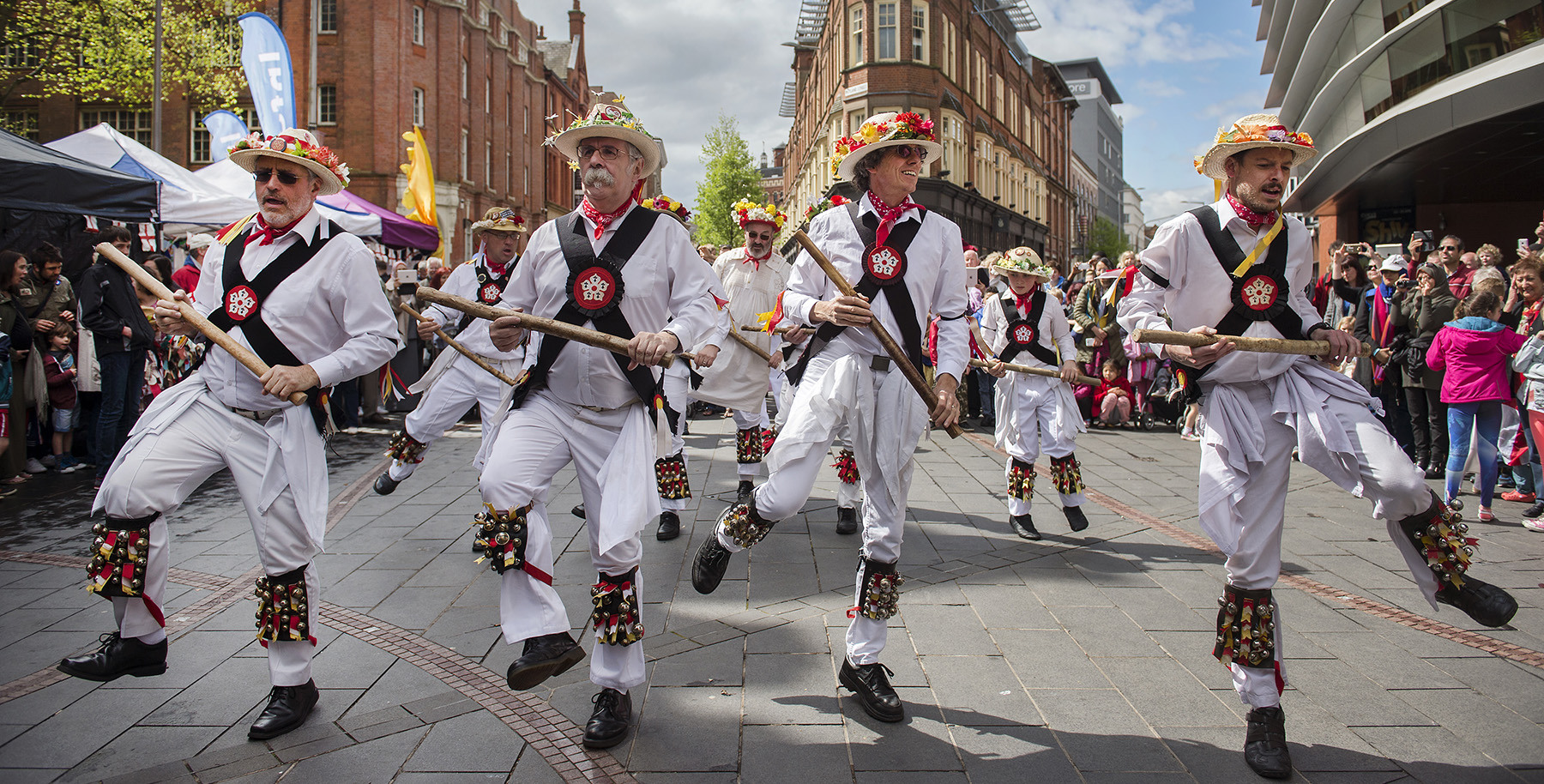 The St George's Festival – which this year takes place on Saturday 21 April – is a day of family friendly entertainment full of activities and fun things to do including the fancy dress parade and a popular dragon hunt.
The annual event takes place in and around Orton Square with music, dance and live performances on the square and in venues across the Cultural Quarter.
But even if knights and dragons aren't your thing, why not mark the occasion by treating yourself to a traditionally English day out in and around Leicester's own green and pleasant land?
The British monarchy inspire Royal Fever all over the world, but if you just can't wait for Royal Wedding in May, don't despair! There is a surprising amount of royal history on offer right here in Leicester.
The King Richard III Visitor Centre is well worth a visit for anyone with an interest in the history of the royals or a fascination for tales of unexpected archaeological discovery. Why not combine it with a visit to Bosworth Battlefield Heritage Centre for the full story of England's most controversial king?
Hop from the most debated King to the shortest reigning Queen in just a short drive - the magnificent 830acres of Bradgate Park was the birthplace of Lady Jane Grey, the doomed Queen of England who reigned for just nine days in 1553. The ruins of her childhood home are free to explore and there are some fantastic tearooms nearby for a spot of very English refreshment – try the Post Office Tearooms in Newtown Linford. Fact: Few things in life cannot be improved/solved by a nice cup of tea and a sit down.
April also marks the return of the sound of leather on willow and the start of the cricket season. The history of cricket in Leicestershire dates back to 1744. Why not soak up the tradition with a match at Grace Road, the home to Leicestershire County Cricket Club for almost 150 years?
And what could be more English than fish and chips?
The Fish & The Chip Restaurant & Cocktail Bar, on the edge of Leicester's Jubilee Square, offers a fresh take on the nation's favorite dish with gluten free batter and a wonderfully global-themed take on British comfort food. You can even order lobster with your chips.
The award-winning Grimsby Fisheries is a more traditional chippy, and has been a local favourite for over seventy years. Among its many claims to fame, it was the first chip shop to serve salmon and has invented a dry salt and vinegar rub that received national acclaim for solving the problem of soggy batter.
Pub, anyone? Toasting St. George with a pint or two would round off a proper English weekend. Real ale fans should try the Criterion, in Millstone Lane, or just up the road is the CAMRA pub of the year for 2018, the Blue Boar. Last year's winner The King's Head, in King Street, is also worth a visit, with three regular beers and five guests, plus real cider.
Of course, St George is not exclusively England's patron saint. His iconography and coat of arms can be found on flags in countries and cities across the world. Places including Portugal, Lithuania, Romania, Germany, Greece, Istanbul and Ethiopia also celebrate him.
And in Leicester, you'll be spoilt for choice for culinary delights from around the world. You can get a flavour on what's on offer to eat and drink across the city here.
Related
0 Comments