England's annual celebration of tourism – English Tourism Week – kicks off this week, running from 17 – 25 March. Great timing – we were just planning our summer holiday! Whilst it's only natural to dream of exotic climes and faraway beaches, there's so much going on right on our doorstep we think 'staycations' can be just as good as a holiday! So to celebrate. we thought we'd take this chance to tell you about some of the quirkier experiences that are unique to Leicester and Leicestershire!

The Birthplace of Tourism
If you enjoy a planned excursion then you should know you have one man to thank for that: Thomas Cook! His name is synonymous with holidays and the man himself was a pioneer of popular tourism – his excursion to Loughborough from Leicester train station in 1841, costing one shilling, was so successful it led to him setting up his own travel agency. Cook is credited as being one of the world's first travel agents, earning Leicester the title of the "birthplace of tourism" – so where better to pay homage to the short break?
If you want to find out more about Cook, be sure to join in the Thomas Cook Guided Walk in the city. Taking place on 24 March, the walk is led by a knowledgeable blue badge guide who will take you to areas connected with Cook's life and work, including the site of the Campbell Street Station, from where he ran his first railway excursion on 1841, the Thomas Cook building from where his excursions were sold, and some of the 19th century coffee houses that Cook helped to set up in the town. Book your tickets through the Visit Leicester Information Centre. If you can't make it don't worry! There is a self-guided Thomas Cook walking trail you can do at any time – pick up a printed copy from the Visit Leicester Information Centre or click here to download and print at home.

Geared up for a great ride
We started with the earliest form of tourism in the city and now we will zoom forward to one of Leicestershire's newest free visitor attractions – the Triumph Factory Visitor Experience. This is the ultimate playground for anyone enthusiastic about life on two wheels – and even motorcycle novices won't fail to appreciate the skill and beauty of these machines through the decades.
Triumph are known all over the world for delivering the perfect ride. The Triumph Factory Visitor Experience tells the story of why people ride, showing off a spectacular collection of historic and modern achievements in motorcycle design, engineering, racing and popular culture. Iconic bikes, impressive history and amazing engineering – if that doesn't impress you we don't know what will!
Triumph is just one stop on a biker break in Leicester and Leicestershire. Norton motorcycles, too, have enjoyed a unique place in motorcycle history – their coportate headquarters are located at the stunning Donnington Hall, where you can book a factory tour for insight into how Norton hand build British motorcycles.
Thirsty after all that? A stop at Coalville's Victoria Bikers Pub will sort you out! With real ales, hearty food, live music and welcoming patrons from all walks of life, the pub is a very interesting place to be – you can even book a room or hire camping facilities to extend your stay. You'll be in good company – famous faces from the Hairy Bikers to Martin Johnson have visited the pub, which has Bike Pub of the Year from Motorcycle News among its list of accolades.

A taste of Leicester
You've heard of the famous Melton Mowbray Pork Pie and you've heard of cheese giants Stilton and Red Leicester – so you know Leicestershire means serious business when it comes to foodies! If you're in the city and want to sample a taste of Leicester, we've got a couple of tasty suggestions up our sleeve!
For a real taste of Leicester's history, head to Gelato Village for their Alice Hawkins flavour gelato. Made with the milk of rare breed Leicestershire cows, the special flavour gelato celebrates the local shoe factory machinist who fought for votes for women. The White Chocolate and Lavender flavour gelato echoes the colours used by the Women's Social and Political Union – purple, green and white.
Other local figures immortalised in gelato include a Richard III rose blossom and fruits of the forest ripple gelato and the now "retired" Gelato dei Campioni, which celebrated the historic Premier League victory of Leicester City Football Club in 2016.
If you're after a tipple head over to 33 Cank Street and explore their map of locally-inspired cocktails and mocktails. From Golden Mile Memories to Earl Grey of De Montfort and the New Walk Sour, you can make your way round the whole city without leaving your seat!

Experiences – from heart-thumping to stomach-filling
If you're looking for an adventure you'll never forget, there are plenty of adrenaline-pumping experiences to be had in the city and county. From quad bike safari's to clay pigeon shooting, boating and fast car-racing, there's so much to choose from. If you fancy trying something a bit different, give a DVT Shredder experience a go… don't know what that is? Neither did we – but listen up because it sounds amazing!
If you love mountain biking and off-roading then the DTV shredder is completely made for you. The shredder is a mixture of tank, snowboard and motocross bike; great for those who love an adrenaline rush and want to experience the outdoors in a whole new way. Check out Avalanche Adventure in Market Harborough for your DVT Shredder ride.
If you love to try new things but prefer adventures in the kitchen rather than the outdoors, Leicester is the ideal destination for food experiences to make your mouth water. We're proud of our curry credentials in the city so where better to start than with the Indian Spice School, where you can learn to make authentic Indian food from curry-house favourites to regional dishes, street food and snacks you might find in an Indian home environment.
If you have more of a sweet tooth, not to worry! Independent chocolatier Cocoa Amore will sort you out – try one of their chocolate making workshops for an incredible, hands-on experience where you can learn about the history of chocolate and even have a go at making your own treats.

National #bandbday
Saturday 24 March might be close to the end of English Tourism Week but it's going out with a bang – the day is dedicated to the celebration of our wonderful Great British B&Bs and other independent hosts and hoteliers, from independent hotels to guest houses, luxury glamping sites… there are all manner of quirky accommodations to rest your head!
Did you know that there are over 20,000 B&Bs in the UK and that they contribute over £2 billion annually to the UK economy? Certainly worth celebrating – but it sounds like a lot of hard work! We thought we would find out just what's it's like to run a B&B by catching up with Linda of Horseshoe Cottage Farm in Cropston, Leicestershire. We asked her to let us know what motivated her to open up the B&B, the secrets to their Visit England 5 Star Gold award – as well as Best Breakfast award! – and what a day in the life of a B&B owner is really like…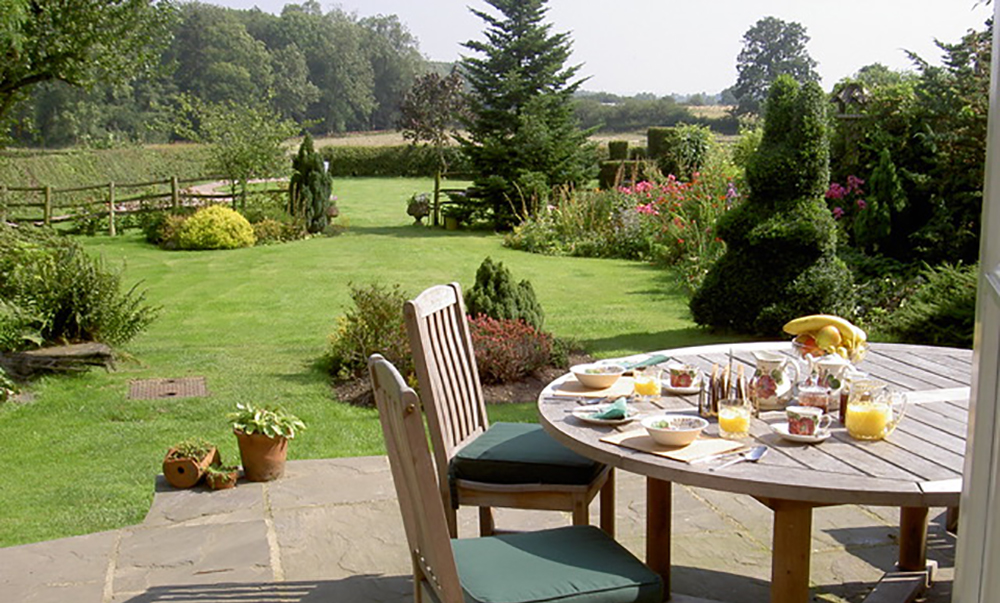 "I was born and brought up in the area so knew the surroundings well and that there was an opening for a B&B. We meet such a lot of different people from all over the world that life here is never boring. The longest person stayed here for 2 to 3 days a week for 8 years! These guests become good friends and we stay in touch with them even after they leave.
"I think attention to detail is what makes us stand out: nothing is too much trouble and we take an interest in what are guests want to get out of their stay. Our rooms are beautifully furnished and the sheets and towels of the highest quality, and we provide locally sourced toiletries to make guests feel extra special.
"When it comes to breakfast, we have a great butcher who has meat from local farms, makes his own sausages and smokes his own bacon. Eggs are from our hens, honey from our bees, bread made by me, along with homemade jams and marmalade all served up in a nice breakfast room or in the garden in the summer.
"Guests all have different needs - over the years we've become good at recognising what people will like and suggest activities for them accordingly. Some people have done their research others arrive with a blank page, but I want them all to leave feeling they have had a great stay for whatever reason they are here, business or pleasure."
Related
0 Comments